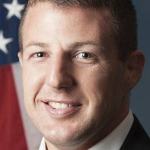 Congressman Markwayne Mullin's chief of staff today said today that death threats have been made against the newly-elected congressman, his wife and children.
Federal law enforcement authorities consider this to be a "serious matter due to the content and nature of the threatening letters which were received," said Karl Ahlgren, Mullin's chief of staff.
Ahlgren said both local and federal authorities have been notified and are investigating the matter.
Ahlgren said precautions have been taken to ensure the safety of Mullin's wife and children. He said the office would have no other comment.