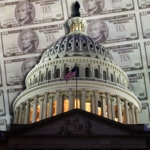 Three Oklahoma congressmen supoorted the "No Budget, No Pay Act" while the state's two freshmen, Jim Bridenstine and Markwayne Mullin, voted against it.
Those voting in favor issued these statements:
Frank Lucas: "I am pleased the House passed H.R. 325, the No Budget, No Pay Act today," said Lucas. "We have consistently worked in the House to come up with commonsense solutions to reduce government spending. In the past two years, we have passed two budgets in the House, and now it is time for leaders in the Senate to follow our lead and do the same. The Senate has failed to produce a budget in over 1,300 days, and I am proud this legislation forces them to pass a budget and set forth a plan to help tackle our nation's debt disaster."
James Lankford: "The No Budget, No Pay bill is a simple solution to a systemic problem in Washington: almost four years without a budget," said Chairman Lankford. "If House or Senate Members fail to do their basic responsibility, their pay will be withheld until their work is done. We cannot continue to dig our nation further into debt without any federal budget planning, as mandated by law.  Our nation's $16.4 trillion in debt is exacerbated by trillion-dollar deficits each year for the last five years. The House proposes a ten-year plan to solvency. The President's budget proposes infinite debt limit increases, but the Senate has no budget plan at all. This time-limited, rather than dollar-limited suspension of the debt ceiling for 90 days is the result of an opaque Treasury whose fiscal outlook is difficult to assess in dollars. We must utilize this opportunity to encourage the Members of the Senate to finally pass a budget, so we can begin the bicameral work of passing a national budget."
Tom Cole: "The Senate's failure to pass a budget in nearly four years is disgraceful.  House Republicans have voted repeatedly to cut spending, but progress in reducing the debt is impossible without cooperation from Senate Democrats. The 'No Budget, No Pay Act' ensures that Senate Democrats will not be paid if they refuse to do their jobs.  The legislation sets a schedule for an orderly budgeting process and prevents a repeat of the last-minute fiscal negotiations that harm the economy and jeopardize our credit rating. The House has acted to prevent debt default and work toward balancing the budget in 10 years.  It is now the Senate's responsibility to act by passing their first budget in four years.