Senator David Holt, R-Oklahoma City, has introduced legislation to make "Black Friday" sales and other low-price retail sales legal in Oklahoma.
Under current law, which was originally enacted in 1941, retailers must sell products for at least six percent more than they paid for it.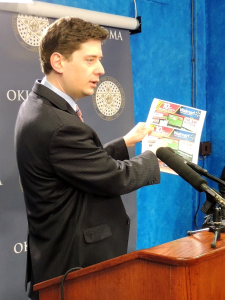 A December 2011 opinion from the Attorney General confirmed that state law bars all "Black Friday" and other low-price sales, even if they are only temporary.  As a result, many retailers, including the largest retailer in the state, are shutting down their "Black Friday" and other low-price sales until Oklahoma's laws are modernized.
Senate Bill 550 would change that for all products, except for fuel and prescription drugs.
"Oklahomans are well aware of the 'Black Friday' phenomenon that most Americans enjoy, and I think our consumers should be allowed to be a part of it," Holt said.   "If a retailer wants to sell a 70-inch television for $50 on 'Black Friday', that's good for consumers, it's good for our economy, and it reflects a free market decision that retailers should be allowed to make."
Holt said the outdated law puts Oklahomans at a competitive disadvantage with neighboring states where retailers can legally offer significant bargains for "Back-to-School" and holiday sales, including "Black Friday", the biggest shopping day of the year.   By forcing Oklahomans to leave the state to shop, retailers, consumers, and core government services are all negatively impacted.
The existing law impacts deals on everything from Thanksgiving turkeys to televisions to clothing, and all products in-between.  The existing law doesn't just apply to low-cost prices that may occur during special sales, but all low prices that a retailer may charge any day of the year.   It is believed that only two states have a law that bars these low prices – Oklahoma and Wisconsin.
The current law also puts Oklahoma retailers who don't comply at great risk.  Companies doing business in Oklahoma have been sued under the law for giving consumers a bargain on products.   Retailers are also subject to arrest for giving consumers a bargain.
"Why should Oklahomans have to drive to Texas to enjoy lower prices at stores that we have in Oklahoma?" said Holt.   "The profile of this existing law is rising just as 'Black Friday', 'Back-to-School', and other sales are taking on more prominence.   No retailer wants to get arrested or sued for charging a low price.   I have serious concerns that Oklahomans will never again enjoy any 'Black Friday' or other low-cost sales until this antiquated law is modernized."
Holt said his bill protects the fuel industry and prescription drugs from changes to the existing law, and would continue to safeguard consumers from predatory pricing that can lead to unfair competition.  SB 550 will be considered in the 2013 legislative session that begins February 4th