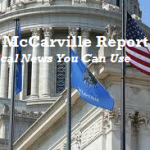 The Independent Insurance Agents of Oklahoma (IIAO), the state's largest property and casualty insurance agents association, announced today its 2013 state legislative agenda.  The Legislature convenes February 4th with Republicans holding majorities of 36-12 in the state Senate and 72-29 in the House of Representatives.
"Once again workers' compensation reform is the top issue our members have identified for the state legislature to address in 2013," said Dan Ramsey, IIAO president and chief executive officer.  "It is absolutely critical that members of the Senate and House reverse Oklahoma's position as one of the most costly states for employers to one that assures injured workers are treated fairly and quickly while returning to work as soon as possible.  Addressing the permanent partial disability (PPD) benefit and transitioning from the current court system to an administrative system are two reforms IIAO members feel must be addressed within the overall framework of workers' compensation reform."
The 2013 IIAO legislative agenda also includes:
Oversight of Public School Coverage Trusts – IIAO supports oversight of public school coverage trusts by the Oklahoma Insurance Commissioner related to inter-local agreements between school districts for the purchase of various types of goods and services. Over the past several years, coverage trusts have developed very competitive pricing and grown rapidly without financial or regulatory oversight.  IIAO supports the installation of an oversight system.
Allowance for Electronic Filing Technology – IIAO supports the use of recent technology developments to improve efficiency and customer service within the insurance community. IIAO supports the use of new technologies, such as electronic filing of records, electronic policy delivery and electronic apps for security verification cards, be permitted through legislation or rules process.