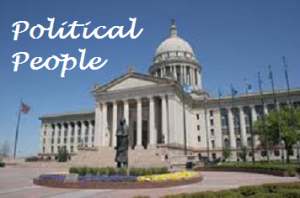 Oklahoma City has moved ahead with plans to take an additional 30,000 acre-feet of water from Canton Lake in the western part of the state and Senator  Bryce Marlatt and Rep. Mike Sanders aren't happy about it.
Marlatt said he learned Tuesday that Oklahoma City had instructed the Army Corps of Engineers to begin transferring the water on Wednesday morning.  The entire process will take approximately three weeks.
"This should have been a last-ditch option for Oklahoma City, but the gates are open and the water is flowing out of Canton Lake right now," Marlatt said.  "Not only are the people of western Oklahoma going to suffer, but when the dog days of summer are here and the drought is even worse, citizens in Oklahoma City are going to be impacted as well because of a failure to adopt a pro-active water conservation plan."
Sanders was also critical of Oklahoma City's decision to move ahead with the draw down on Canton Lake.
"Where has Oklahoma City been the last three years during this drought? Where is their water conservation plan? Lawns are still being watered in dead of winter.  It makes no sense at all," said Sanders, R-Kingfisher.  "Failure of water management planning got them to this point. It was ill-advised to use reserve water first rather than a monitored draw-down of two-thirds full Lake Hefner."
Rep. Seneca Scott was recently elected as secretary for the National Caucus of Native American State Legislators, a working group of the National Conference of State Legislatures (NCSL).
Rep. Scott, who is a member of the Choctaw Nation, has been involved with the NCSL since 2009. The Native American caucus, which acts as an advisory body for the NCSL on issues affecting Native Americans, consists of 72 members from 17 states, including 24 members from Oklahoma.
"It is such a privilege to represent Native American issues and culture on a national platform, and I am honored that my colleagues in the caucus have elected me to serve in this role," said Scott, D-Tulsa. "I hope to use this role to encourage partnerships with other states that leverage Oklahoma's unique position as a national leader on energy, health and infrastructure projects among the various tribes. We have an expertise built on experience here in Oklahoma that we can transplant to other states and regions to benefit the lives of so many more Native Americans."
An African American heritage program on Feb. 12 will celebrate the significant contributions of African Americans and their influence on the state.
The event is sponsored by Rep. Anastasia A. Pittman, the NAACP Oklahoma City Youth Council, Top Teens of America and emerging young leaders of the Alpha Kappa Alpha Sorority Inc. This year's theme is "Celebrating Beyond the Dream."
"Our goal is to foster an environment to where students and residents can come and participate in the celebration of the contributions of African Americans during Black History Month," said Pittman, D-Oklahoma City. "Since I was first elected to office, I have worked with local leaders to expand what was originally a simple photo shoot to document African American community leaders to an event that includes performances, vendors and numerous civic leaders. It is one of my favorite annual events."
What: Women's Policy and Leadership Conference
When: Friday, March 1, 2013
Where: Oklahoma City Golf and Country Club
For more information, contact Rachel Hays at 405-602-1667 or
House Democrats outlined today their priorities and positions for the 2013 legislative session.
"The issues in front of the Oklahoma legislature this year will define not only our progress as a state in the coming year, but also in the years to come," said Democratic Leader Scott Inman, D-Del City.
"Our legislative agenda reveals our priorities as a caucus as well as the differences between Democratic and Republican values," said Leader Inman. "As Democrats, we believe that we must create policies that increase the standard of living in Oklahoma for all of our state's citizens, not just the most affluent sectors. We also believe we must do justice to the hardships and challenges many Oklahomans face through proactive policy. We believe we have done so by carefully crafting a legislative agenda that will accomplish our goals."
Legislative priorities for the House Democratic Caucus include the budget, health care, public safety and transportation, education, and worker's compensation reform. House Democrats believe their vision for the 54th legislative session will fortify Oklahoma and capitalize upon the strengths of its people and resources, in contrast to the Republicans' policies that will enrich the few at the cost of the many.
The Budget: Reinvesting in Oklahoma
Disrepair recently prompted Gov. Mary Fallin to again ask that legislators create a funding plan to fix the sewage, plumbing, and electrical problems in the state capitol building.
"We've known about this problem for a very long time," Fallin said in a January 18th article in the Oklahoman. "We've got to get some guts and deal with the issue and take care of it."
House Democrats, however, disagree that "guts" have anything to do with the governor's refusal to use growing revenues to restore funding to a broad spectrum of core state programs and agencies that have seen up to 20 percent in cuts over the past five years while asking to increase the state's indebtedness by issuing bonds in order to pay for the capitol building's repair.
"Oklahomans deserve a responsible budget that doesn't increase our debt," said Rep. Mike Brown, D-Tahlequah, Democratic Ranking Member on the Appropriations and Budget Committee. "Whereas the Republican agenda has been to shrink government by starving it through the legislative process and gutting funding to, for instance, public broadcasting and senior nutrition and veterans' centers, Democrats propose a reasonable budget that restores funding to core public services and a tax policy that is fair and equitable for all Oklahomans."
The House Democrats recommend a pay-as-you-go approach to the budget that reinstates dollars for under-funded and crucial state services, protects our revenue stream, and, learning from Kansas' experience, sees no promise for increased, widespread prosperity after a reduced or eliminated state income tax. 
"Our Caucus will also continue to oppose any cuts to the state income tax," said Leader Inman. "The House Democratic Caucus believes that a strong and vibrant Oklahoma can only grow its economy if we support a sound, fiscally responsible budget that doesn't slash revenues while pushing the state further into debt."
Health Care: Investing in Oklahoma's Health Care Needs
A strong and vibrant Oklahoma relies upon not only a fiscally responsible budget, but also a healthy citizenry. With Governor Fallin refusing to expand Medicaid, the House Democrats reiterate their position that investing in our state's health care system is also a prudent investment in its long-term economic future.
"A healthy state and a healthy economy go hand in hand," said Leader Inman. "The expansion of Medicaid would bring us closer to this reality for the thousands of Oklahomans who are currently unable to afford and access health insurance. But with nearly $600 million in uncompensated care being delivered every year, our doctors and hospitals at the front lines of our health care system, especially in rural areas, are struggling to survive."
The House Democrats believe that at the state level, our government should assist in providing medical care for our most vulnerable communities, including veterans, seniors, children, and others who cannot meet their basic needs without help. The Democratic Caucus also supports Gov. Fallin's call to increase funding for mental health care in Oklahoma.
"An unhealthy state and a health care system incapable of meeting the needs of its residents," said Leader Inman, "does not cultivate an environment suitable for attracting businesses. As Democrats, we believe that we can maintain a climate conducive to attracting businesses to Oklahoma while protecting our citizens with the health care mandates so many Republicans oppose."
"I am looking forward to the debate on how Oklahoma citizens without access to affordable health care can benefit from new health insurance exchanges," said Rep. Jeannie McDaniel, D-Tulsa, and Democratic Ranking Member on the Public Health Committee. "This will be a challenge for legislators as we work to comply with federal law while keeping an eye on improving the lives of those amongst us who can be healthy productive individuals with an affordable safety net of care."
Transportation and Public Safety: Investing in Infrastructure and Security
Oklahoma's long-term economic health and its ability to attract and maintain business also depend upon a sound infrastructure and a secure populace. Deep budget cuts to transportation and public safety in recent years, however, have adversely affected the State of Oklahoma's obligation to provide safe roads, bridges, and public spaces for all of our residents.
House Democrats call to fund the state's investment in the Department of Transportation's 8-year program to fix Oklahoma's roads and crumbling infrastructure, reversing the $100 million raid by the governor and the Republicans on DOT's budget in 2011.
House Democrats support increased funding for agencies tasked with protecting the public, in order to remedy what Rep. Jeff Hickman, R-Dacoma, called a "life or death situation" regarding staffing and funding levels for the Departments of Public Safety and Corrections.
"Because of draconian budget cuts over the past four years, the Department of Public Safety and the Department of Corrections are sorely under-funded and under-staffed," said Leader Inman. "With increased funding, we can increase our Corrections officers' salaries, as well as the number of corrections officers, state troopers and law enforcement officers, and full-time employees at OSBI and the medical examiner's office."
After the recent school shootings in Newtown, Conn., a prominent theme in bills filed by the legislature this year center on school safety. House Democrats adamantly support secure schools for all Oklahoma students but caution against knee-jerk laws that fail to take the budget into consideration and overburden education and public safety agencies with more unfunded mandates and liabilities.
"The bottom line is, how much is the state willing to pay for school security?" asked Rep. Brian Renegar, D- McAlester, and Democratic Ranking Member on the Public Safety Committee. "How much is our leadership willing to spend on safety for our children? Education and public safety have both been under-funded for the past four to five years, even though these are both core functions of government. Now our leaders must decide how they will adequately fund both these areas in order to protect students and the general public."
Education: Investing in Oklahoma's Students
Recent events have indeed renewed our concerns regarding our children's security in school. Parents and care takers must feel confident that their children are not only physically secure at school every day, but that the most precious members of our society are receiving a sound education.
House Democrats believe that a community that truly values human life will arm all its members with the intellectual and emotional tools of a rigorous education necessary to navigate modern life.
Our Caucus believes that the key to a sound education for our children include the availability of brick-and-mortar schools unburdened by unfunded legislative mandates or administrators lacking educational expertise.
House Democrats also believe in reinstating many of the programs and incentives which have seen drastic cuts by Republicans in recent years, including National Board Certification bonuses.
"Our schools and educators are undergoing a series of transitions that are the result of legislation based on the assumption that our public schools are failing," said Rep. Ed Cannaday, D-Porum, Democratic Ranking Member on the Common Education Committee. "I wish we would put our legislators and other elected officials under the same scrutiny as our educators and schools."
House Democrats support the State Board of Education's request for $300 million additional funds for Oklahoma schools, including $37 million to be allotted this school year.
"A primary way to attract businesses to our state is through a strong and successful public school system that prepares our students for the jobs companies are looking to fill in the future," said Leader Inman. "Our Caucus believes that we should reinvest in our schools to prevent further teacher layoffs, increasing class sizes, and the elimination of important programs like art, band, and advanced placement. We believe these are investments in our children and our future that will pay dividends, many times over."
Summary of House Democrats' Legislative Agenda
·

        

Reinvesting in Oklahoma through a "pay-as-you-go" budget, rather than relying upon bonds and increasing our state's indebtedness.
·

        

Utilizing growing revenues to reinstate full funding for core public sector services, including education, transportation, and public safety.
·

        

Protecting Oklahoma's revenue stream and tax base through opposition to reductions in the state income tax.
·

        

The expansion of Medicaid and access to affordable health care for all Oklahomans.
·

        

Increasing funds for mental health care.
·

        

Continuing support for the Oklahoma Department of Transportation's eight-year plan to fix roads and infrastructure.
·

        

Increasing funding for the Departments of Corrections and Public Safety, for increased salaries for corrections officers, and added corrections and law enforcement officers, state troopers, and employees at OSBI and the medical examiner's office.
·

        

Reinstating funding to public schools and programs such as the National Board Certified Teacher bonuses