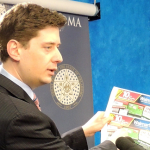 Senator David Holt today commended the Senate Business & Commerce Committee for passing SB 550, which will help Oklahoma consumers by legalizing "Black Friday" and other low-price sales.  The bill passed on Thursday by a 5-2 vote.
"Oklahomans should have every right to enjoy the lower prices that Americans in 48 other states do," said Holt.
"Why should our citizens have to drive to Texas or Arkansas to enjoy greater savings?  If a retailer wants to offer low prices, that's good for consumers, it's good for our economy, and it reflects a free market decision that retailers should be allowed to make."
Holt thanked legislators for "standing up for consumers and the free market."  Voting in favor of SB 550 were Senators Dan Newberry, R-Tulsa, Anthony Sykes, R-Moore, John Ford, R-Bartlesville, Nathan Dahm, R-Broken Arrow, and Ron Sharp, R-Shawnee.
Under current law, which was originally enacted in 1941, retailers must sell products for at least six percent more than they paid for it.  A December 2011 opinion from the Oklahoma Attorney General confirmed that state law bars all "Black Friday" and other low-price sales, even if they are only temporary.  As a result, many retailers, including the largest retailer in the state, are shutting down their "Black Friday" and other low-price sales until Oklahoma's laws are modernized. Senate Bill 550 would change that for all products, except for fuel and prescription drugs