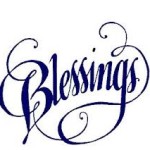 Mike McCarville
Daughter Shelli avoided the May 19th Pecan Valley tornado in her storm shelter. Joined by a neighbor, she listened as it roared past. When she emerged, she expected desolation; instead, she found her home intact. But every tree had its top twisted off and branches blocked her driveway and were scattered throughout. Not a shingle on the house was damaged. Her neighbor lost her chimney and some shingles. To the west and the north, homes were destroyed. To the east, just across the street, roofs were badly damaged. Shelli's husband and son were in Ohio and she faced a huge task alone. But over five days, crews from local churches, from Arkansas and from Alabama cleared her driveway and her yard. Those kindnesses left us thankful. And then, late Tuesday night, we received this lump-in-our-throats email:
Let's see. Today is Tuesday, right? After a grueling day yesterday with the chainsaw crew from Birmingham, AL, Howard and I decided that we needed to step back a bit today.
This morning, we burned a nice wide path between our driveway and Shaunda's so that if she needs to make a run to the cellar this week, she won't have to beat her way through the brush like last weekend. Then we got cleaned up and headed to town to run some errands and buy a new chainsaw.
While we were stopped for lunch, a co-worker from Old Germany called to see if I could work tonight because they were short staffed and tonight was the last night for Groupons. I reluctantly said yes. So after a quick trip home to feed Kevin and change clothes, off to work I went.
As we began to get busy, I realized that there was only one cook and one plate prepper (and today was her SECOND day on the job.) Upon inquiry, I learned that they were the only two working because the other kitchen staff employees had lost their homes in the Little Axe/Lake Thunderbird tornado.
Shut my mouth!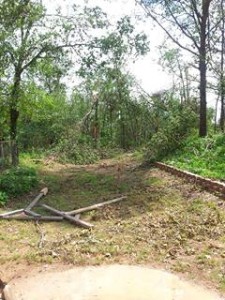 So…I greeted every one of my tables by telling them that we were glad they'd come and I hoped they weren't in a huge hurry because we were short-staffed due to tornado losses by some of our employees. Every single one of my tables, without exception, was more than patient. One couple waited almost an hour and a half for sausage dinners, and they could not have been nicer. My final table came in as I was closing out my other tables. I greeted the family of three (Mom, Dad, and a son of about 10) as I had the others. They assured me they were fine. I had fun with all my tables tonight, but sometimes you just know when you can have a bit more fun with a
table, so when I went to take their orders, I perched on the bench next to the mom and made some comment about how this ole girl was tired because I'd been hauling storm debris for a solid week. The dad said, "That's what we'll be doing tomorrow."
I asked him if their home had been damaged by the tornadoes. He said, no, they were from Kentucky and they came to help with the cleanup this week. I thanked them profusely for coming, and told them briefly about all the help we have received in the past week.
Throughout the evening, each time I came to their table, we would chat for a minute or two. They are staying at the KOA near the
restaurant, and took the week off work to come help. When I stopped by the table to cash them out, I thanked them again for coming and I told them, "The families you help this week will NEVER forget you!" I then reached for their payment (their tab was $50.43) and said I'd be right back with their change. He said they were good, no change needed, so I told them goodbye and God bless as they got
up to leave.
When I got behind the wait station, I opened the $50 and realized that the other bill folded inside it was not the $10 that I had expected. It was a ONE HUNDRED dollar bill! I just lost it. The other two waitresses came running over to see what was wrong
because I was bent over, sobbing. All I could say was, "He left me $100. They came from Kentucky to help us and he left me $100!"  When I looked up, there stood this giant of a man telling me that he hoped it would help us  with our recovery.
So what do you do when catastrophe strikes, followed by blessing after blessing after blessing? God truly does work in mysterious ways. But the point is, HE WORKS! Every single day, on good days and bad, when you're up or when you're down, God is at work.
Sometimes you have to look closely to see His hand. And on days like today, you can see His blessings with your eyes closed.
Speaking of closing your eyes…
Pink hugs and goodnight,
Shelli