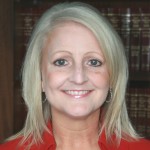 Attorney General's Office
Attorney General Scott Pruitt Tuesday announced the selection of Assistant Attorney General Jennifer Miller to the board of directors for the Association of Government Attorneys in Capital Litigation.
"Jennifer's knowledge of criminal law and her professionalism will serve the association well," Pruitt said. "She has done an outstanding job leading our Criminal Appeals Unit, and selection to the board is recognition of her leadership in this field."  
The purpose of the litigation association is to provide information and communication on capital punishment cases, appeals, enforcement of such judgments and opinions in accordance with due process of law. The association also conducts regular meetings and seminars for education, training and the exchange of information among litigators.
Miller is an assistant attorney general and chief of the Criminal Appeals Unit. She has served the state in the AG's Office since 1991. The Criminal Appeals Unit handles all criminal appeals as well as habeas corpus actions, both state and federal, for the state.
She has argued numerous cases before the Oklahoma Court of Criminal Appeals and the U.S. Court of Appeals for the Tenth Circuit. Miller also has represented the state before the U.S. Supreme Court.
Miller earned a bachelor's degree in 1983 from Oklahoma State University and received her Juris Doctorate from Oklahoma City University in 1986.
In 2003, Miller was awarded the Board of Directors' Appellate Advocacy Award by the Association of Government Attorneys in Capital Litigation, which is given in recognition of excellence in the litigation of capital cases.