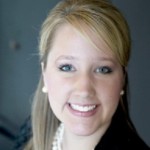 Rep. Elise Hall is among a group of featured young political leaders and activists invited to speak during the 2013 regional Conservative Political Action Conference (CPAC)   in St. Louis today.
During the CPAC program, Hall will be recognized by the American Conservative Union (ACU) when they showcase "10 Under 40" rising stars in the conservative movement. Hall will be a featured conference speaker. The conference theme is: "American's Future: The Next Generation of Conservatism."
Hall is in her second term in the House of Representatives and is serving as majority caucus secretary this year. When first elected in 2010, she became the youngest legislator in state history.
In the Legislature, Elise Hall has helped pass more than 20 government modernization bills that will save an estimated $170 million over seven years, and now she's working to reform the state income tax to spur Oklahoma's economic growth.
American Conservative Union has hosted CPAC since 1974, and it now stands as the largest and most influential annual gathering of conservatives in the nation, with over 10,000 attendees last year alone.
"It is an honor to participate in CPAC 2013 and share the conservative message of how we need a strong, conservative business approach to the operation of government in every state in our great nation," Hall said. "The future of Oklahoma – like the future of our country, depends on the building up of strong families, business, and education," she added.
CPAC 2013 will bring national leaders together with local grassroots activists for three days of blockbuster speeches, policy discussions and networking opportunities – all celebrating the shared principles of smaller government, a strong national defense and traditional values.
Hall represents House District 100 in northwest Oklahoma City where she has lived her entire life. When the Legislature is not in session, Hall and her family own and operate Hall's Pizza Kitchen, a mobile food kitchen. She is active in her community and her local church.