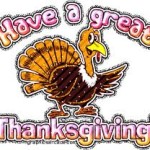 Lord, you've allowed us a few challenges this year; we pray we've met them with dignity and grace. If not, forgive us and give us the power to handle them better, even if that does include a bit of yelling, foot-stomping and muttered obscenities.
Lord, we've always known you have a sense of humor. Even when it's dark, you let us see a little light. But could you please make that light a whole light brighter?
Lord, sometimes we don't communicate well. For some of us, that's age; for others, stubbornness; for others…well, it's just none of our damn business.
Lord, thanks for the memories of those who are gone; we cherish their parts of our lives, relive the best moments with them and celebrate their love. We do make some exceptions, but this is a prayer, not a lamentation.
Lord, thank you for the little ones in our lives; they remind us of joy, refresh our love, brighten our days and bring laughter where it's often needed. And thank you for their parents, who take them home so we older folks can get some rest.
Lord, thanks for family even though members sometimes provide challenges. Give us continued patience, renewed love and financial prosperity. Especially that last one.
And finally, Lord, give us the ability to meet coming challenges with patience and grace and understanding and the knowledge that only we are perfect and all those other ones just can't wait to get our blood pressure up. ~ Mike McCarville