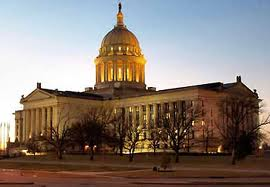 From The Senate Communications Division
Senator Harry Coates is frustrated by recent suggestions that the legislature have the citizens of Oklahoma vote to pass a bond issue to fix the State Capitol building.  Coates, who has been fighting for Capitol repairs for years, believes this is an issue that needs to be addressed by the legislature and quickly, not by the people in November.
"It's sad that our predecessors in past decades and years of surplus never thought to start a special account for Capitol repairs and upgrades.  This beautiful, historical building has been falling into disrepair for some time and nothing has been done," said Coates, R-Seminole.  "We're at the point now where the building may not be survive another decade if we don't act immediately.  And now we're in an election year and legislators are afraid to vote on a bond issue to repair the building because it might upset voters, so they want to pass the buck off on citizens, and that's wrong."
A recent study by Office of Central Services found that it will cost around $140 million to repair the nearly 100-year-old decaying Capitol.  Problems include original plumbing and electrical wiring – all of which is extremely inadequate and inefficient.  There have been reports of raw sewage seeping out under the building and pieces of the limestone exterior façade are falling off the building.  To protect the public and those who work in the building, barriers have been put in place to block off the south steps and other areas.  It is estimated that without immediate repairs, the limestone will continue to crumble and fall off and could all come down within the next four or five years.
The legislature appropriated just under $480,000 last session for emergency repairs and an engineering study.
"As legislators, we have to make hard decisions but this isn't one of them.  We were elected and get paid to do a job and we need do it and stop making our constituents do our jobs," said Coates.  "State questions have a purpose, but I don't believe we should use them to make financial decisions.  We have regularly passed similar bond issues over the years so there's no reason to stop now.  We need to approve a bond issue this session and save our incredible state treasure."