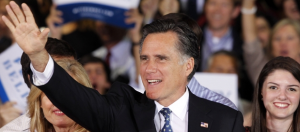 Mitt Romney defeated Newt Gingrich in the Florida Republican presidential primary tonight in a 15 percent landslide.
Romney recovered from a  second-place finish in South Carolina to sweep the Florida winner-take-all contest and  reassert his frontrunner status.
The victory, in the biggest GOP contest to date, is  likely to give the former Massachusetts governor a burst of momentum as he,  Gingrich, Rick Santorum and Ron Paul head west to battle in what has become an  increasingly negative race.
Details from Fox News