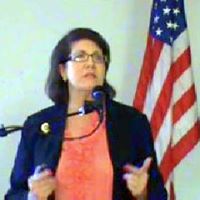 Linda Murphy
Will Governor Fallin heed the strong and clear message that has come from the people of the state of Oklahoma or will she yield to the desires and pressures of national bi-partisan power at her finger tips? Fallin is the chair of the National Governors Association and is backed by the U.S. Chamber of Commerce.
This is the moral dilemma Governor Mary Fallin faces.  Fallin has successfully had the majority of power over K-12th grade public education transferred to her.  Through legislation she has gained control over the State School Board, now entirely appointed by her alone.  This move changes the balance of power established in our State Constitution, which gave the power to the people who elected the state officials, originally serving as members.
Fallin also has tremendous new additional power through the office of
Educational Quality and Accountability, which her Secretary of Education now oversees.  This level of power over education in the hands of one person, the Governor, did not exist until Mary Fallin came into office.
Fallin has until June 7th to sign HB 3399, which will then become law and return Oklahoma public education to true Local and State Control from the NGA-National Governors Association's Common Core State Standards, which went into law in 2010. The statewide student testing under Common Core State Standards is controlled by the Federal Government which funded the test item development.
The State Board of Education approved a contract for Common Core aligned testing scheduled to start this fall, 2014-2015 school year.  The test vendor is Measured Progress, which works directly with PARCC, Partnership for Assessment of College and Careers, one of two federally funded testing consortia.
In December, Governor Fallin held a press conference where she signed an
Executive Order declaring that the Federal Government will have no authority over Oklahoma education but unless she signs HB 3399 and puts the law in place to STOP the Federal tests the curriculum Oklahoma students study and learn will be in the hands of the Federal Department of Education.
HB 3399 passed the Oklahoma State Legislature by a huge majority 102 legislators voting for it while only 27 voted against it. In the House of Representatives the vote was 71 to 18 in and in the Senate it was 31 to 10.  Oklahoma House Speaker Hickman's office has reported that the Governor has until June 7th to sign the bill.
Oklahomans statewide are urging the Governor to sign HB 3399 and set our
Children FREE from the control of the Federal Government!
Linda Murphy served as Education Advisor to Governor Frank Keating and Deputy Commissioner Workforce Education and Training under Commissioner of Labor Brenda Reneau.