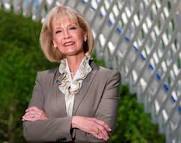 Governor's Office
(The previous story that appeared here was an error.) Governor Fallin announced that Oklahoma Tourism and Recreation Department Executive Director Deby Snodgrass will begin serving as the director of the Oklahoma Department of Commerce (ODOC) beginning Tuesday, January 20. She will replace ODOC Interim Director Don Hackler on that date. Snodgrass will step down from her current post at Tourism and be replaced by a new director named by the Tourism Commission.
Snodgrass also currently serves as Governor Mary Fallin's secretary of tourism. Fallin announced today that Snodgrass will become Oklahoma secretary of commerce and tourism, combining the two cabinet-level posts.
"Oklahoma's Commerce and Tourism departments have complimentary roles," said Fallin. "Both are selling the state as an exciting place to visit, work and do business. Deby has done an outstanding job managing the Oklahoma 'brand' as our secretary of tourism. Combining these two posts gives her an opportunity to coordinate that vision and ensure both departments are working together to promote Oklahoma as a special place to live, work and raise a family in."
As Tourism's executive director, Snodgrass was charged with supporting a $7 billion industry. Tourism in Oklahoma has helped create over 80,000 jobs, and the department currently employs approximately 800 fulltime and seasonal workers.
As executive director, Snodgrass helped move Oklahoma Tourism into the digital age, focusing on internet marketing and improving TravelOk.com. The site, Oklahoma's main online portal for tourism and recreation, now averages among the top-five most visited state tourism websites in the nation.
Under Snodgrass' leadership, the Tourism Department also shed its debt, paying off bonds and operating with an end-of-year surplus. Snodgrass successfully transferred ownership of several state parks to other entities, ensuring they remain open to the public without incurring costs to the state.
"Governor Fallin has always told me she has two over-arching goals for state government: create more and better jobs for Oklahomans; and build smarter and more cost-efficient state agencies," said Snodgrass. "Our team worked very hard to do both of those successfully for Tourism. I am thrilled for the opportunity to pursue those goals at the Department of Commerce and help to promote Oklahoma as an exciting destination for business and investment."