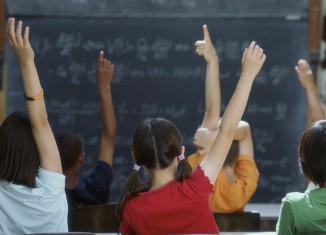 Oklahomans overwhelmingly support higher pay for teachers, according to a new SoonerPoll.
Only 1.4% of the respondents opposed higher teacher pay; 58% believe it should be based on merit while 39.8% believe it should be across the board.
The poll, which can be viewed at http://soonerpoll.com/wpcontent/uploads/2015/01/EducationChoice_toplinesTabs.pdf, is weighted more than 10% percent heavier with Republicans than Democrats, even though registration is nearly even.
The SoonerPoll, which mostly tested educational choice messages, shows Oklahomans divided on the issue of vouchers; 29.9% are strongly opposed while 29.2% are strongly in favor.
Tax credits for families who send children to private or religious schools are less divisive.
The SoonerPoll is conducted by the widely-respected Oklahoma media pollster Bill Shapard. .
The poll was conducted January 5 through January 22.
A proposal for income tax relief for educational expenses is more widely popular, the survey shows.
While the poll is weighted more heavily with Republicans, Shapard based it upon a voter participation model. Oklahoma Democrats have voted less frequently in recent years.