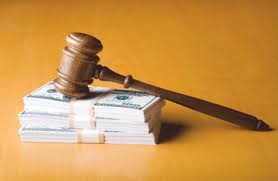 Jay Chilton
MiddleGround News
While debating against a judicial pay increase bill last week, Rep. Kevin Calvey referenced political self-immolation protests by claiming if it were not for his Christian faith, he would douse himself with gasoline and set himself on fire on the steps of the state Supreme Court.
The bill, presented by Earl Sears, R-Bartlesville, would increase pay for appellate judges, Supreme Court justices and some staff members. Sears said a mistake was made during the last year's legislative session causing some in the judicial branch to not receive the pay increases intended for all judges and staff when a pay increase was implemented last year. Sears said his bill would, "correct that mistake."
Vocal opponents were led by Calvey, R-Oklahoma City, and Mike Ritze, R-Broken Arrow, who both said a pay increase for some of the highest earning civil-servant employees in the state is indefensible in a year with a $611 million projected budget shortfall and no planned pay raise for teachers.
"I cannot defend this to my constituents," Ritze said. "I just can't defend a salary increase for another branch of government."
Rep. Jon Echols, R-Oklahoma City, spoke in support of the bill insisting that to not pass the bill would continue a distressing mistake and asked the members to pass the bill to correct the issue.
"I want to point out, for this cost, we can get almost two Supreme Court justices for the cost of one Jenks (school district) superintendent," he said. "What we have … is a current situation where our district court judges make more than our Court of Civil Appeals and Supreme Court. It's embarrassing. We look foolish. There's no reason we should have done it and it's a mistake that needs to be corrected."
Calvey spoke in opposition to the bill from a standpoint of checks-and-balances within the government. He explained that the judicial branch was able to restrain the power of the legislature through judicial review but the legislature had little ability to curtail the authority of the courts. He claimed the most immediate and effective avenue for the legislature to constrain what he implied to be an unjust and activist Supreme Court, was the "power-of-the-purse."
"It was said before (during debate on the bill) that we don't need to be meddling in another branch of government," he said. "Folks, checks-and-balances means we all meddle in each other's stuff. The judiciary sure as heck meddles in what we do, a lot, and they do so unjustly."
"What do we do, as a branch of government, if we are concerned about something that is going on at the Supreme Court?" Calvey asked the assembled house members. "What check-and-balance do we have? Somebody suggested the retention ballot. The retention ballot is a joke. … None of them (judges) have ever been non-retained in 50 years that we've had the retention ballot.
"What can be an effective check-and-balance is that we have the power of the purse."
Calvey then turned to abortion. He made a case outlining what he described as a calculated effort by the Supreme Court to subvert the will of the vast majority of Oklahomans as it relates to pro-life legislation.
"There's been two other cases that they (Supreme Court) struck. On election day, they let them go into effect for three days ― they didn't want to say anything while their retention ballots were still at stake ― and on election day they struck those laws, two laws passed by this body, overwhelmingly, with bipartisan support," he said, "just last year."
Then Calvey became agitated, raised his voice and challenged the court using an oddly surreal reference to self-immolation as a form of protest to what he perceived as a systematic pro-abortion stance by the state's highest court.
"If I were not a Christian and didn't have a prohibition on suicide, I would walk across the street, douse myself in gasoline and set myself on fire! To protest the evil that is going on over there, killing, giving the death penalty, to the will of the people and the will of this body in protecting the least among us," he said.