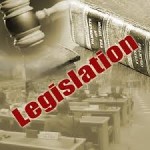 A measure that would ensure that citizens have a full 90 days to collect signatures for initiatives and referendum petition was signed into law by Governo Fallin.
House Bill 1484, by Rep. Randy Grau, requires  the Secretary of State to set the date on which circulation of an initiative petition may begin no less than 15 days, or more than 30 days, from the date when all appeals, protests and re hearings have been resolved or have expired. The bill requires notification be sent to the proponents stating the date when circulation of the petition will begin and that signatures are due within 90 days and requires that signatures supporting a referendum petition be filed with the Secretary of State no later than 90 days after adjournment of the Legislature that enacted the measure that is the subject of the referendum. Finally, the measure repeals the penalty for circulation of an initiative or referendum petition by an unqualified elector.
"This measure will ensure that citizens get a fair shot at enacting reforms through the petition process," said Grau, R-Edmond. "The purpose of the bill was to set some specific dates so that those gathering signatures could know how much time that they would have and when the date to start collecting signatures started to run, which would be after there had been a time for objections or that any objection had been resolved.."
Rep. Grau said he worked very closely with Secretary of State Chris Benge on this issue, and that he tried to work with all interested parties to ensure that Oklahoma would have a clear and fair initiative referendum petition process.
House Bill 1484 contained an emergency clause, meaning the law will take effect immediately.