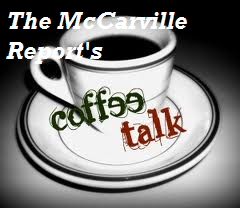 By Mike McCarville
~ Auditor & Inspector Gary Jones wants to explore the idea of a unicameral legislature. He has support for that idea…which will be fought tooth and nail by others. Jones has been stepping out with positions lately; some wonder if that's an indication of future plans.
~ Scott Mitchell's morning show on KOKC-1520AM appears to be gaining even more listeners.  The station's killer signal gives it a leg up on KTOK, where Lee Matthews has the morning hours.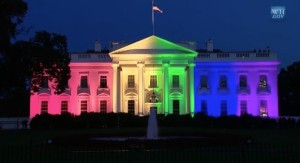 ~ It has struck me before how lacking in class the Obamas are, but this photo of the Obama House following the Supreme Court's ruling on gay mariage is divisive, a "rub your nose in it" demonstration. So much for the Great Uniter.
~ Letitia Waters Pierce, whom I do not know, posted this on Facebook: "I am tired of being labeled racist or bigot because I have a differing opinion. I am tired of being told that I am not tolerant enough of other peoples views or choices. What about MY views or choices? Don't conservative values matter? Don't Christian values matter? Tolerance for me, but not for thee should be their cry…."
~ David Boren and OU couldn't look much worse if they tried in the case of the stolen painting. Rep. Paul Wesselhoft continues to pester Boren on the issue, and few do that as well as he does. How does one justify keeping anything taken from a Jew in Nazi Germany?
~ There's optimism in the Oklahoma Republican Party this week after two months of controversy and last week's turmoil marked by the resignation of embattled Political Director TC Ryan. Chairman Randy Brogdon and others had engaged in give-and-takes over Ryan, who admitted guilt to two domestic abuse charges in 2012. Brogdon accepted Ryan's resignation after the Oklahoma County GOP leadership pressed a resolution which would have ordered Brogdon to fire him and after Governor Fallin said she supported that resolution.