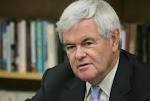 From Newt 2012
The Newt 2012 campaign added to its Oklahoma leadership today by announcing a strong political steering committee.
The leadership team includes:
Former Republican Majority Leader Tad Jones (Claremore)
State Representative Todd Thomsen (Ada)
State Representative Mike Jackson (Enid)
Former State Representative Robert Worthen  (Oklahoma City)
State Senator Rob Johnson (Yukon)
Former Cleveland County Republican Party Chairman Aaron Curry
Former Oklahoma County Republican Party Chairman Steve Curry
State Senator Bryce Marlatt (Woodward)
State Representative Leslie Osborne (Chickasha)
State Representative Don Armes (Faxon)
State Representative Dan Kirby (Broken Arrow)
State Senator Greg Childers (Del City)
Norman City Councilman Hal Ezell
State Senator Kim David (Wagoner)
State Representative Colby Schwarz (Yukon)
State Chairman J.C. Watts and State Director Chad Alexander have put together a strong grassroots effort in Oklahoma, recruiting some of Oklahoma's most powerful leaders.
"We have organized an outspoken team of political leaders who can deliver a win for Speaker Gingrich on Super Tuesday," said Alexander.
Newt echoed that sentiment praising the group "for their commitment to the cause of conservativism.  We need bold solutions and strong leadership to lower the price of gasoline to $2.50 per gallon, create jobs and defend America. I am honored that these leaders have joined in the fight."