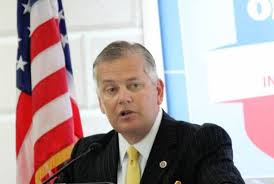 Insurance Commissioner John D. Doak has expressed his gratitude to Oklahoma's federal legislators for supporting bills to protect small businesses. The senators and representatives are all co-sponsoring bills to amend the Affordable Care Act (ACA).
"I am thankful that our Congressional delegation has chosen to take the lead on this incredibly important issue," said Doak. "Our senators and congressmen recognize the impact the ACA is having on everyone in our state, and they have stepped up to the plate on behalf of Oklahomans."
On January 1, the definition of "small group size" under the ACA will change from 1-50 employees to 1-100 employees. The change could have adverse effects on Oklahoma consumers and small business owners. Some employers will lose their current coverage; some will have fewer coverage options; and some will have their health insurance costs increase.
In April, Doak urged Oklahoma's congressmen and senators to support HR 1624 and S. 1099. Both give states the flexibility to determine the size of employers in their small group market.
"Because the impact of this decision will vary, each state should be responsible for defining the small group market," Doak said.
This week U.S. Sens. Jim Inhofe (R) and James Lankford (R) signed on as co-sponsors for S. 1099. U.S. Reps. Jim Bridenstine (R-District 1), Tom Cole (R-District 4), Frank Lucas (R-District 3), Markwayne Mullin (R-District 2) and Steve Russell (R-District 5) have agreed to co-sponsor HR 1624.
The measures have been assigned to committees in the Senate and House where they await hearings.