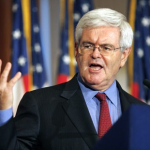 Republican presidential candidate Newt Gingrich will visit Oklahoma City on Monday as he completes a tour of states where presidential primaries are being held on "Super Tuesday."
Gingrich, accompanied by former Congressman J. C. Watts, will hit two Oklahoma City sites. He is scheduled at Drill Right Technology, 9630 Pole Road, at 1:30 and at Reed Center, 5800 Will Rogers Road, Midwest City, at 3.
Watts and former candidate Herman Cain will appear on Gingrich's behalf in Tulsa; they've scheduled a stop at Joe Momma's Pizza, 112 south Elgin Avenue.