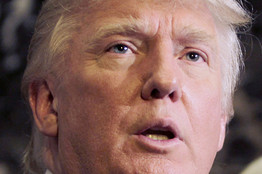 M. Scott Mahaskey on Politico:
Of all the dumb things that have been said about Trump by people who were too slow to get finance jobs and therefore wound up in journalism, perhaps the stupidest of all is the one you hear most: He'll get killed in the general! This is a godsend for Democrats! Forty-state wipeout! And so it goes mindlessly on.
Actually — and this is no endorsement of Trump, just an interjection of reality — that's a crock. Of the Republicans now running, Trump likely has the best chance to beat Hillary Clinton, for two reasons:
First, he's the only Republican who can meaningfully expand the pie. Polls show a surprisingly large number of Democrats open to Trump. In one January survey by the polling form Mercury Analytics , almost 20 percent said they'd consider crossing over to him from Hillary. Even if that's double the actual number, it's still stunning. Could Ted Cruz expect to draw that many Democrats? Could Jeb?
It's an article of faith in Washington that Trump would tank the party's prospects with minority voters. Sounds logical, especially if you're a sensitive white liberal who considers the suggestion of a border wall a form of hate speech, but consider the baseline. In the last election, Romney got 6 percent of the black vote, and 27 percent of Hispanics. Trump, who's energetic, witty and successful, will do worse? I wouldn't bet on it.
But the main reason Trump could win is because he's the only candidate hard enough to call Hillary's bluff. Republicans will say almost anything about Hillary, but almost none challenge her basic competence. She may be evil, but she's tough and accomplished. This we know, all of us.
But do we? Or is this understanding of Hillary just another piety we repeat out of unthinking habit, the political equivalent of, "you can be whatever you want to be," or "breakfast is the most important meal of the day"? Trump doesn't think Hillary is impressive and strong. He sees her as brittle and afraid.
He may be right, based on his exchange with her just before Christmas. During a speech in Grand Rapids, Michigan, Trump said Hillary had been "schlonged" by Obama in the 2008 race. In response, the Clinton campaign called Trump a sexist. It's a charge Hillary has leveled against virtually every opponent she's faced, but Trump responded differently. Instead of scrambling to donate to breast cancer research, he pointed out that Hillary spent years attacking the alleged victims of her husband's sexual assaults. That ended the conversation almost immediately.
It was the most effective possible response, though more obvious than brilliant. Why was Trump the only Republican to use it?