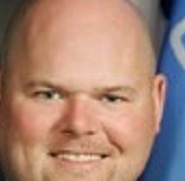 House Media Divsion
Wes Hilliard (D-Sulphur) announced today he will not seek re-election to House District 22, a seat he's held since 2004.
"It has been an honor to be the voice of the people of House District 22 the last eight years," said Hilliard. "I have enjoyed my service to the state of Oklahoma, but I'm ready to devote more time to my family and explore opportunities closer to home."
When Hilliard was elected to serve House District 22, he was single without children, but since his first election in 2004 his personal life has changed immensely. While serving in the House, Hilliard met and married his wife Melissa in 2008 and now has two sons, two-year old Weston, six-week old Jaxson.
"I always intended to serve the people of House District 22 for as long as they continued to elect me," Hilliard said. "But when my second son was born in the middle of session every Sunday night it's grown increasingly hard to leave my wife and two young sons to head to the capitol. These are some of the best years of my young family's life together, and I simply don't want to miss out on the little things like seeing Jaxson take his first step or spending an afternoon on the farm with my oldest boy, Weston."
Hilliard said the decision to not seek re-election was a difficult one to make, but knows it's the right one for his family.
"Serving as the voice of House District 22 allowed me to fulfill a life long dream, and it's an experience I'll never forget," Hilliard said. "But now it's time to go home and help cultivate the dreams of my son and serve my community in the role of private citizen."
During Hilliard's tenure in the State House, he's served as deputy Democratic Floor Leader and served as Vice Chair of the House Government Modernization Committee. He's been successful in passing numerous pieces of legislation including a powerful public safety measured known as the Caitlin Wooten Act. That law created the Victim Information Notification Everyday (VINE) in Oklahoma and ensured better protection of crime victims. He also authored legislation ensuring teachers at the Oklahoma School for the Deaf received the same pay raises as public school teachers. Hilliard was also instrumental in making the construction of new wings at the Sulphur Veterans Center a reality and worked to get on and off ramps on the Chickasaw Turnpike and Highway 177.
"I want to say thank you to the people of House District 22 for entrusting me with the amazing opportunity to serve them in the Legislature. It's been both an honor and a pleasure and it's shaped me into the person I am today," He said. "My tenure at the Capitol has been one of the best experiences of my life, and I will never forget the many great relationships I have made during this time."