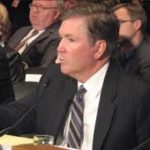 Gearing up for the Oklahoma County Sheriff special election, former Rep. Mike Christian has hired Cloud Consulting to help manage the campaign. Former Corporation Commissioner Jeff Cloud heads the consulting firm. Cloud managed races for Congressmen Mickey Edwards and J.C. Watts.
"I'm looking forward to helping Representative Christian win the upcoming special election for Oklahoma County Sheriff," said Cloud. "Mike is a tremendously well-qualified candidate who will make needed changes in the sheriff's office and provide leadership in solving the jail crisis."
Christian said he is thankful for Cloud's help.
"Anyone who has ever worked with Jeff Cloud knows he is one of the most intelligent and capable leaders in our state," said Christian. "I am grateful for his support and guidance. He will be a tremendous asset to my campaign."
Christian lost the regular campaign in 2016 when incumbent Sheriff John Whetsel defeated him in a close race. Whetsel has announced his retirement.
Governor Fallin has called for the special primary election to be held April 4th. If necessary the special general election for the seat will be September 12. The filing period for the office is February 27, 28 and March 1.