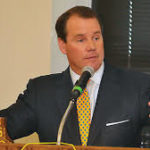 Lt. Governor Todd Lamb today announced his resignation from Governor Fallin's cabinet, where he has served as the state's Small Business Advocate, one of many roles the Lt. Governor fills.  This resignation does not affect Lamb's role as Lt. Governor.
"In Oklahoma, the Governor and Lt. Governor are separately elected positions. While both are Republicans, at this time Lieutenant Governor Lamb believes it is best for him to vacate the cabinet position," stated Lamb's Chief of Staff, Keith Beall.
"His decision to resign was made after yesterday's cabinet meeting in which Governor Fallin maintained her support for taxing 164 services affecting every Oklahoma small business and family," Beall concluded.
Lt. Governor Lamb made the following statement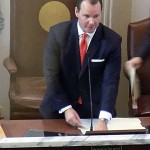 "Governor Fallin deserves to have someone in her cabinet who can be a strong advocate for her agenda, and that is something I am unwilling to do.  While I respect the determination with which Governor Fallin met her obligation to present a balanced budget to the legislature, I cannot support her proposed tax increases.  This proposal will adversely harm Oklahoma's small businesses and families, especially those in our service industry.  While Governor Fallin and I have disagreed on issues from time-to-time, our differences on this important topic are so significant they preclude me from continuing to serve on her cabinet."
Governor Fallin then issued the following statement.
"I was disappointed and surprised to learn from a press release that Lt. Gov. Lamb had decided to quit serving as a member of my Cabinet.
 "I have always valued Todd's independent voice. I valued it when we first came into office when we dealt with a similar financial crisis and I value his independent voice today. I've never been afraid to have dissenting voices at the table. I think the people of Oklahoma benefit from that. There will always be a seat at the table for his independent voice.
 "Leading a state is never easy, especially when there are so many challenges and we are faced with a prolonged economic downturn. But through ideas, hard work, long hours and making tough decisions, we can find solutions to those challenges our state faces. We have to.
 "As governor, I have provided a reality check of doing the same thing over and over with the structural deficits of our budget and expecting a different outcome. If we want to educate our children, a teacher pay raise and ensure the health and public safety of our citizens as well as improve our roads and bridges, we must fix the structure of our budget so we don't keep having budget shortfalls and uncertainty."