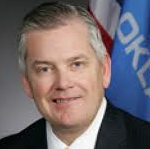 Insurance Commissioner John Doak is Sunday's guest on The Verdict.
With "A Look Into The Insurance Department," Doak's discussion will feature questions from show cohosts Mick Cornett and Kent Meyers.
The show airs on Cox Channels 3 and 703 in Oklahoma City and in Tulsa at 9:00 a.m. It repeats Monday at 9:30 a.m., Tuesday at 10:00 a.m., and Wednesday at 10:00 a.m.