In light of a story by The Frontier, Preston Doerflinger has resigned his position as the interim Health Commissioner. The Frontier's Dylan Goforth wrote the story which outlined a domestic violence call at Doerflinger's Tulsa residence in 2012. The Board of Health went behind closed doors for a long period of time during an executive session to discuss Doeflinger's job. When the group emerged, it was announced Doerflinger had resigned as noted by Goforth's Twitter account.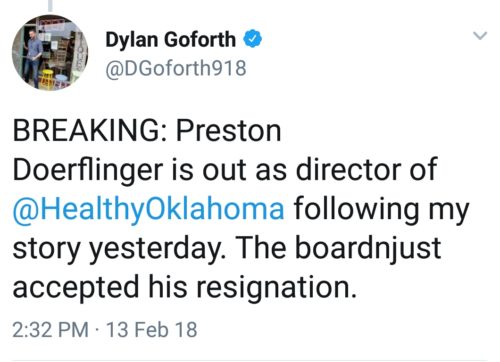 You can read Goforth's story at The Frontier here.
Rep. Josh Cockroft who chairs the House Special Investigative Committee looking into the State Department financial mismanagement confirmed Doerflinger's resignation and a replacement had been named.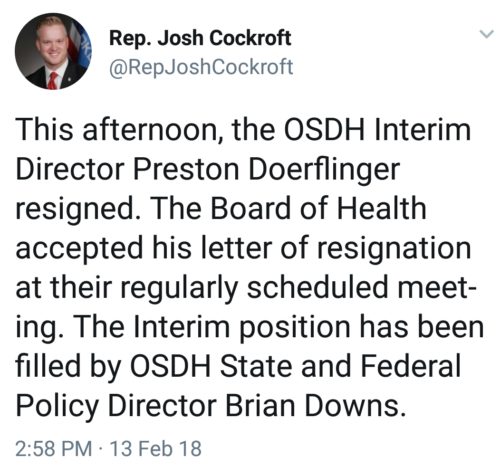 Later that day, it was announced Doerflinger also resigned his cabinet post. Governor Fallin said she appreciated his service to the state, but was unaware of the possible domestic violence issue.
"The board of the Oklahoma State Department of Health has accepted the resignation of Preston Doerflinger as interim commissioner. He has also resigned as secretary of finance, administration and information technology.
"Preston has played a critical role in state government, serving as director of the Office of Management and Enterprise Services, and Cabinet secretary of finance, administration and information technology. During the past seven years, his efforts saved tax dollars by implementing cost-saving reforms and consolidating state agencies. He also helped guide the Department of Human Services during a critical time when key reforms, such as the Pinnacle Plan, were implemented. I appreciate his service to the state.
"I was unaware of the personal situation involving Preston and his ex-wife almost six years ago. Mrs. Doerflinger did not contact my office about this matter. I take domestic violence very seriously, but I will take Mrs. Doerflinger at her word that this matter was not a case of domestic violence. I respect Preston's decision to move on from his government service, and wish him and his family the best," said Fallin in a statement.