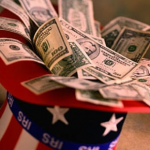 Congressman James Lankford kept his official office budget $252,000 below his alloted sum for 2011 and his fellow Oklahoma congressman weren't far behind.
Reporting in today's The Oklahoman, Chris Casteel says the five-member delegation returned almost $755,000 to the Treasury.
Even with a 5 percent cut to their office allowances for 2011, the Oklahomans  came in under budget, according to figures released recently by the clerk of the House. Lankford, R-Oklahoma  City, spent $252,000 less than he was allotted for his Oklahoma and  Washington offices, while Rep.  John Sullivan, R-Tulsa, spent $229,000 less.
Read more: http://newsok.com/oklahoma-members-of-u.s.-house-spent-less-than-allotted-for-their-offices/article/3670586#ixzz1tRYTzMgB