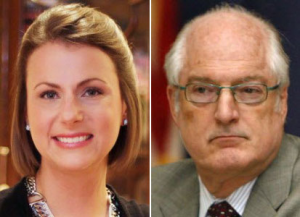 Mike McCarville
There's no winner in the contested race for House District 71 in Tulsa.
In fact, the election wasn't even held.
That's the bottom-line impact of today's ruling by the Strate Supreme Court, which invalidated the April 3 special election.
The 8-0 court ruling means no one won the contested election between Democrat Dan Arthrell and Republican Katie Henke.
"It is impossible to determine with mathematical certainty which candidate is entitled to a certificate of election," the ruling by Chief Justice Steve Taylor stated.
"Therefore, the certificate of election issued by the Tulsa County Election Board is invalidated and the election is void."
On election night, Arthrell won by three votes, but a subsequent recount requested by Henke found four fewer ballots than were counted by election machines and left Henke ahead by one vote.
After Henke was certified the winner by the Tulsa County Election Board, officials found two ballots still inside election equipment. The ballots were for Arthrell, enough to put him ahead again. Legal wrangling resulted in the issue going to the Supreme Court.
Following the court's ruling, Henke said, "I'm certainly pleased that the Oklahoma Supreme Court agreed that unsecured ballots should not be counted to decide the outcome of an election. Although I'm disappointed the people of House District 71 are now left without a voice for the rest of this legislative session, I respect the Court's ruling.
"Moving forward, I will continue fighting hard to represent the values and interests of our district. There are many differences between my liberal Democratic opponent and me, and we will be talking a great deal about those issues throughout the campaign. In November, voters will make the final decision on who they want speaking for them at the capitol: a mainstream Republican who will fight for better economic policies and more jobs, or a liberal Democrat who supports Barack Obama and his failed polices that have cost many Oklahoma jobs.
"I'm looking forward to meeting voters, discussing issues, and earning the trust of the people of House District 71 to represent our shared values at the Capitol."