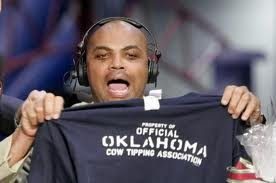 Mike McCarville
The Legislative Black Caucus is angry with Governor Fallin over the presentation of cowboy boots to 0utspoken sports commentator Charles Barkley, in Oklahoma City for tonight's Thunder-Spurs playoff game.
It is Barkely's first visit to the state since he made numerous derogatory remarks about Oklahoma in TNT broadcasts five years ago.
At halftime in the game, Barkley and other commentators said the boots he was wearing came from Fallin and the Black Caucus.
Rep. Mike Shelton of the Black Caucus fired off a stern email today; a copy was obtained by The McCarville Report:
Members, as you know, there has been much conversation about the Charles Barkley boot presentation which originated with and was initiated by the Black Caucus. 
Somewhere in the effort to get with the Barkley folks and rumors around the Capitol, the Governor's office has attempted to hijack what was supposed to be a goodwill effort of the State of Oklahoma by the Black Caucus to Charles Barkley regarding his comments that Black folks don't wear boots in Oklahoma. 
After this idea had been conceived by the Black Caucus, and we reached out, the Governor's office reached out as well.  She then attempted to negotiate for the Black Caucus without our permission how the presentation was going to happen.
She then told the TNT television station that she would be presenting him the boots.  I told them no, because it was a Black Caucus effort. Her office set up the presentation opportunity and TNT allegedly told the Governor's office she had 8 spots.  The Governor would use from that 8 spots, 4 for her and her husband; 2 for her security guards; the boot maker would get 2 spots; and the Black Caucus would get 2 spots.  I told the Governor's office that was unacceptable and asked them to work on getting more spots because the Black Caucus needed more than 2.
On last night, we called TNT to try and get the Black Caucus more spots and found out that the Governor's office lied and actually got 10 spots.  She reserved the extra 2 spots for a staff person and someone on her security staff.  I contacted the Governor's office and advised them that we were aware that they had not been completely truthful about the number of spots given.  Ultimately, this goodwill effort on our part has been absolutely hijacked and the Governor's office has diminished any role of the Black Caucus.  I am informing the Governor's office that we will not participate and do no appreciate her blatant disregard for the Black Caucus.  (I will do it tactfully).  Our choosing not to participate will not result in any cost to the Black Caucus.  If you have any questions, please feel free to call me on my cell, 405-923-9880.
Fallin spokesman Alex Weintz responded to the allegations on her behalf in an email to The McCarville Report:
"Last week, the governor reached out to Charles Barkley through representatives at TNT to invite him to tour Oklahoma City with her and First Gentleman Wade Christensen and to visit the governor's mansion. Representatives from TNT responded that, while Barkley was unable to take a tour, Governor Fallin was invited to join him for the pregame show. After agreeing to be on the show, the governor decided to present Barkley with an Oklahoma gift. Knowing the Black Caucus was having custom boots made by Loveless Boots, members of the governor's staff reached out to their membership to ask if they would like the governor to present those boots, and if caucus members would like to join the governor for their own photo op with Barkley. They indicated they would. The governor's office was provided with a limited amount of passes for her, her press staff, security, Black Caucus members, and employees from Loveless Boots. The governor worked in good faith to get as many passes as she could, and offered four to the Black Caucus. Our office has been informed that they were not pleased with that number. Regardless, the governor made every attempt to include them in this presentation and to give them credit for their work. She made no attempt to 'hijack' their presentation and looks forward to working with them in the future."