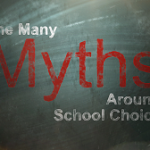 Americans for Prosperity Foundation will present a special Back to School movie night to honor Dr. Milton Friedman on September 25th, in recognition for the Nobel Laureate, his works, theories and contributions.
There will be a showing the film School Choice MythBusters.
The film is designed to put to rest many of the myths used by school choice opponents. The documentary film event is free…including popcorn and soft drink.
 Location: Starworld 20 Theater, 10301 S. Memorial Drive, Bixby
Date & Time: Sept. 25, 7-9 p.m.
Cost: Free…including popcorn and drinks!
RSVP: http://mythbustersmovie.eventbrite.com/
Guest Panelists: State Education Board Member Bill Price MythBusters Movie Producer James Price Rep. Jason Nelson Mark Lee Cantrell (tentative)