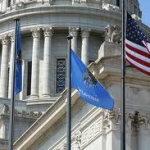 Barbara Hoberock
Tulsa World Capitol Bureau
It will take an estimated $153 million to make repairs and renovations to the Capitol, a legislative panel was told Tuesday.
The House Appropriations and Budget Committee conducted an interim study on the costs and needed repairs after the Legislature's failure to pass a bond proposal to finance it.
The Capitol, which opened in 1917, is plagued by structural, electrical and plumbing problems.
The figure comes out to be about $382 per square foot.
Rep. Doug Cox, R-Grove, said it would be difficult to explain to his constituents why the figure per square foot is so high.
Duane Mass, the Capitol architect and curator, said the building is historic and that restoring and repairing historic facilities costs more.
The most critical need is to repair the limestone on the outside of the building, which is flaking off, Mass said. The south side has been barricaded to protect visitors from falling pieces.
Fixing the outside will cost $8 million to $10 million, Mass said.
"We will be able to make this look like a brand new penny on the outside," he said.
House Fiscal Director Mark Tygret said the project could be paid for either through a legislative appropriation, a bond proposal, an account set up to hold funds from the sale of state assets or the state's "rainy day" fund.
The rainy day fund holds about $557.5 million, of which $144.4 million could be tapped if a supermajority of both houses agree that the need is an emergency.
Mass said it would cost more if the repairs are done in phases.
The Capitol needs an entirely new plumbing system, said Dana Webb, director of policy and legislative services for the Office of Management and Enterprise Services.
"Several plumbing lines have deteriorated to the point that they are leaching effluent into the chase and adjacent walls," she said.
The electrical system does not meet safety codes, Webb said.