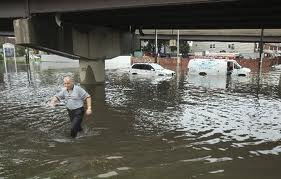 Jerry Bohnen
Contributing Editor
While some wonder how the disaster caused by Hurricane Sandy on the east coast will affect voting in the Presidential election, Paul Ziriax, the Oklahoma Election Board secretary, says no one federal agency will be able to delay the national election.
"The administration of the elections falls to the states," Ziriax told The McCarville Report.  "And I'm not sure the federal agencies would have any authority to delay the election in Oklahoma."
He notes that Congress has the authority to set the election date.  "Absent congress changing the date, no one can change the date in Oklahoma or other states."
Voting along the east coast, domain of blue states that support President Obama, has already been affected. And some fear polling precincts could be without electrical power one week from today.
The President and Republican challenger Mitt Romney have already canceled some of their campaign appearances because of the deadly storm. There has been discussion whether some voting could be postponed or delayed. But Ziriax says it's up to the individual states.
"It's on a state-by-state basis and really depends on the statutes in each state," he explained.  "Elections are run by the states."
Ziriax suggested it would take a monumental natural disaster to cause any delay in an Oklahoma statewide election. That's not to say some local elections have not been affected.  In February 2011 when 18 inches of snow fell in northeast Oklahoma, local school elections in Tulsa were impacted.  Some precinct polling places were moved to the Tulsa State fairgrounds so streets could be cleared of snow and voters could have access to the voting booths.
"At this point," said Ziriax, "our focus is on Oklahoma and we're moving forward with no plans to change anything." Title 26 of the State Constitution provides for election emergencies in participating counties.  Wildfires have also forced workers to move voting places in some counties in the past.
"But there's not anything that allows for an election to be delayed,"added the Secretary of the Election Board. "And I haven't heard any serious discussion of delaying the election."
Wednesday at 5 p.m. is the deadline for those wanting to vote by absentee ballot to make their request through their local election board.  And figures will be released Thursday on final voter registration in the state.
"We've seen a big increase in absentee voting," Ziriax said.  "Definitely, this is happening nationally too."
Oklahoma has a total of 2,000,610 registered voters as of January of this year.  Democrats totaled 943,283 while there are 828,257 Republicans and 229,070 registered independent voters.  Early voting begins Friday at the county election boards.