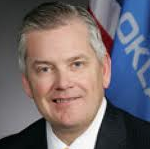 Insurance Commissioner's Office
Oklahoma Insurance Commissioner John D. Doak issued the following statement in response to reported concerns about the department's Anti-Fraud Unit.
"I'm happy to address any concerns people may have. I am very proud about what our Anti-Fraud Unit is doing, especially since it doesn't come at taxpayer expense. The Unit includes former OSBI agents, Tulsa homicide detectives, and other long-time law enforcement veterans. They are some of the most experienced criminal investigators in the state of Oklahoma. They investigate serious crimes including embezzlement, exploitation of the elderly and fraud. We've had cases where victims lost their life savings. We helped track that individual all the way to Florida where he was arrested. Our investigators also respond to natural disaster scenes, looking for unscrupulous contractors and making sure vulnerable consumers aren't victimized for a second time. Protecting Oklahomans is my top priority. I will do whatever I can to keep them and my investigators safe. The best part about the Anti-Fraud Unit is that it's funded by fines, penalties and multi-state settlements, not taxpayer dollars."
Facts about the Oklahoma Insurance Department (OID)
In the last two years, the OID has returned $10 million to the state that the OID was legally authorized to spend.

In FY 2011, the OID deposited $121,055,455 into the General Revenue Fund, $59,884,843 into the Firefighter's Pension Fund and $24,648,957 into the Police Pension Fund.
Today several current and former lawmakers voiced support for the Anti-Fraud Unit.
Sen. Bill Brown, R – Tulsa
"I support the Insurance department's fraud efforts 100 percent. People need to understand that insurance crime is serious. Those behind it stand to lose a lot of money if they're found out, so they can be very dangerous. We have to do all we can to protect our law enforcement officers, including the members of the Oklahoma Insurance Department's Anti-Fraud Unit."
Larry Derryberry – Counsel for the Oklahoma Property and Casualty Insurance Guaranty Assoc., Former Attorney General
"The Oklahoma Insurance Department Fraud Unit has been given the task of protecting the policyholders and citizens of Oklahoma who are too often victimized by criminal behavior. The task of the fraud officers can be very dangerous given the nature of those who may face stiff penalties for their actions, including imprisonment. We have seen tragic stories of violence arising from enforcement efforts of officers in Louisiana. We don't want to see that repeated in Oklahoma. It seems logical and smart that the officers be trained, certified and outfitted like every other officer of the law. From a financial standpoint, insurance fraud increases insurance costs of Oklahoma citizens and businesses. The citizens deserve dedicated enforcement of the insurance laws."
Louisiana Insurance Commissioner Jim Donelan
"I certainly support any actions that other states' insurance departments take, including those taken by Commissioner Doak in Oklahoma, to increase the level of personal safety for their fraud investigators.  Louisiana was sadly alerted to the fatal dangers facing insurance fraud investigators when we lost two of our exemplary investigators last year while on a simple investigation.  Since then we have revised our internal procedures and added an additional level of threat recognition awareness training for our fraud investigators and I plan to ask the Louisiana Legislature in the upcoming session to arm some of our investigators.  I hope that no other lives will be lost in this vital activity of states' insurance departments, due to a lack of personal safety for the investigators."