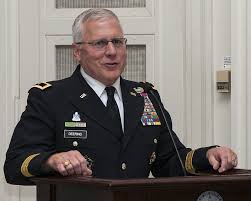 Governor Mary Fallin is naming Major Gen. Myles Deering as her Secretary of Veterans Affiars, Oklahoma Watch has learned.
Fallin's spokesman, Alex Weintz, confirmed the changes Friday afternoon. Weintz said Deering would replace Gen. Rita Aragon, who was stepping down as state VA secretary. Aragon has been named to a new post: governor's liaison for veterans affairs.
Weintz also confirmed that Fallin will name Brig. Gen. Robbie L. Asher as adjutant general, replacing Deering. Asher will command the Oklahoma Army and Air National Guard.