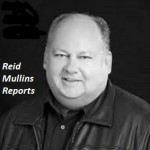 For The McCarville Report, this is Reid Mullins reporting.
Former State Senator and former gubernatorial and senatorial candidate Randy Brogdon discusses Republican politics and today's issues. Senator Brogdon is seeking the Chairmanship of the OK GOP. He talks with TMR about the recent GOP gains, what still needs to be done, and where he would steer the OK GOP as chairman.
He also addresses SB 233 which would change the timeline of party voting for 2016 which could move the convention until AFTER Super Tuesday, and its ramifications.
And he also talks about the seeming schism between "establishment Republicans" and Tea Party conservatives.