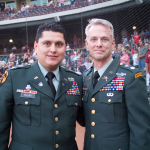 Steve Russell was endorsed today by fellow combat veteran Major Ed Pulido.
Russell, retired Army lieutenant colonel and former state senator, faces a primary runoff with Corporation Commissioner Patrice Douglas.
Pulido is a combat veteran amputee who serves with several veterans causes including Folds Of Honor Foundation and is the founder of Warriors For Freedom.  He has been awarded with the Bronze Star with Valor, Purple Heart, Meritorious Service Medal, and Joint Service Commendation & Achievement Medals.
"I've known Steve Russell for years. He is a man of great character, will, and integrity," says Pulido.  "When our country needed him, his family sacrificed at home while he sacrificed for our freedom.  He led his troops in combat from the front, earning the unwavering loyalty of his troops.  When our state needed him, Steve Russell answered the call, faithfully serving a full term in the State Senate, passing major reforms, and earning legislative awards as a constitutional conservative."