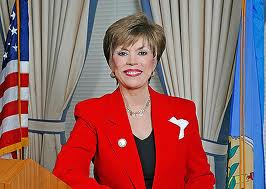 KTOK is first out with the story: www.ktok.com.
Damon Gardenhire, communications director for the State Deptartment of Education, issued the following statement after the release of the investigative report by State Auditor Gary Jones, which found that past agency employees over a period of ten years had operated unauthorized accounts that appeared to have been slush funds:
 "We are troubled and concerned by the State Auditor's findings about past practices under the previous administration. These things can't be condoned or tolerated. Last year, we brought our concerns about irregular travel claims by an employee to the State Auditor, which ultimately led to the findings in today's report. While the issues raised by the State Auditor in today's report are not within our purview, we urge the appropriate authorities to take action to address any possible wrongdoing from past years."
Late this afternoon, Garrett told KTOK's Calvin Wright that the allegations in the audit are "totally untrue."
She said the interpretation of the account is "a complete misunderstanding."
She said former Attorney General Drew Edmondson had examined the fund and found it legal.