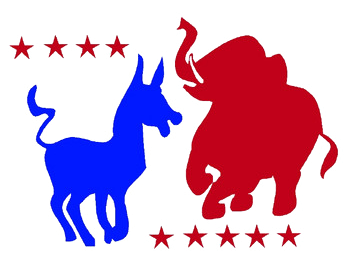 Election Board Secretary Paul Ziriax says Democrats continue with the most registered voters, but Republicans are closing the gap.
Historically with an overwhelming advantage, Democrats now face what has been electoral reality for years: Republicans have the momentum.
Oklahoma Voter Registration Statistics avs of June 1, 2012:
Party                          6/1/2012
=======                    =======
Democrat                   942,987          46.45%
Republican                851,759          41.96%
Americans Elect                   6          0.00%
Independent              235,321           11.59%
TOTAL                       2,030,073
Notes about the updated voter registration statistics:
Oklahoma's Primary Election is Tuesday, June 26, 2012.
The latest voter registration statistics from the Oklahoma State Election Board reflect a continuing trend that has seen a steady growth in the percentage of Oklahoma voters who are registered Republicans and Independents.
The

total number of registered voters in Oklahoma has increased by more than 29,000 since January 15, 2012

. As of June 1,2012, there are 2,030,073 registered voters in Oklahoma.
Democrats continue to be Oklahoma's largest political party, with 942,987 registered voters, or 46.45% of all voters. That's a net decrease of 296  voters since January 15, 2012.
Registered Republicans now number 851,759 registered voters, or 41.96% of registered voters, a net increase of 23,502 since January 15, 2012.
Oklahoma's newest political party – Americans Elect – led a successful petition drive and was recognized as a political party in March. Americans Elect party now has 6 registered voters.
The number of Oklahomans registering as Independent, or no party, is now 235,321, or 11.59% of all registered voters. That is a net increase of 6,251 since January.
Historical voter registration statistics:
Thirty years ago, in 1982, Democrats made up 71.4% of registered voters in Oklahoma compared to 26.4% for Republicans and 2.2% for Independents.
Ten years ago, in 2002, 53.7% of registered voters were Democrats, compared to 36.3% for Republicans and 10% for Independents.
On January 15 of this year, Democrats were 47.1% of voters, Republicans were 41.4% and Independents were 11.5%.