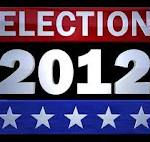 A poll taken for the Markwayne Mullin campaign shows him leading in the six-way Republican primary, his pollster said today.
Pat McFerron of Cole Hargrave Snodgrass And Associates said Mullin leads the field by a wide margin, more than doubling the support of his closest competitor. At 30% overall and 45% of decided voters, Mullin is poised to finish in a strong first place.
"The real battle at this point is for second place," McFerron wrote in a memo to the Mullin campaign, "While George Faught currently is in second place, three other candidates are within striking distance. Faught is at 15%, Wayne Pettigrew at 7% and both Dustin Rowe and Dakota Wood are at 6% each."
The poll found that Mullin has a favorable to unfavorable ratio of better than 13 to 1 (54% favorable vs. 4% unfavorable). This is the best ratio of any of the six candidates in the race.
Mullin's lead is wider among key constituencies such as the 34% who have participated in all five of the most recent primaries (33% Mullin; 15% Faught; 7% Pettigrew; 6% Rowe; 6% Wood) and the 7% of voters who express familiarity with all of the candidates in the race (39% Mullin; 18% Faught; 0% Pettigrew; 7% Rowe; 11% Wood).
Study tbe entire poll at Brushfire_Memo.pdf.