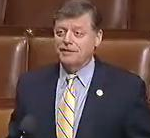 Congressman Tom Cole was appointed to a seat on the House Rules Committee tonight by House Speaker John Boehner.
The Rules Committee is part of the House leadership and works with the Speaker and the Majority Leader to schedule bills and set the terms of debate on the House floor.  Every piece of legislation considered by the House must first pass through the Rules Committee.
Cole will continue to serve on the House Budget Committee and the House Appropriations Committee.
"It's a tremendous honor to be asked to serve on the House Rules Committee," Cole said.  "The Rules Committee is responsible for every piece of legislation considered on the House floor.  Serving on the Rules Committee while also serving on the Appropriations Committee and Budget Committee will provide a unique opportunity to influence crucial legislation to reduce the national debt.  Balancing the budget will be the focus of the 113th Congress, and enacting responsible spending cuts and entitlement reform will be my top priority."