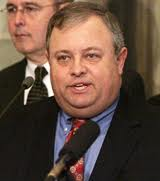 Staff
Secretary of State Glenn Coffee announced today that when he leaves that post at month's end he will acquire the law practice of incoming Ethics Commission Director Lee Slater.
Coffee said, "I'm very excited about the opportunity to continue the efforts begun by Lee. He has become the expert in matters involving the intersection of politics and law. As Pro Tem of the State Senate I was his client and I witnessed first-hand his skill and expertise in these matters."
Coffee said he will continue to represent Governor Fallin in the Sardis Lake lawsuit and as general counsel for TVC Marketing Associates, a family business he helped establish over 20 years ago.