Randy Krehbiel
Tulsa World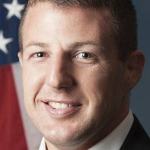 CLAREMORE ~ Someone who disagreed with U.S. Rep. Markwayne Mullin on gun control threatened to shoot Mullin and his three children at their school, the first-term Republican said Tuesday during a town hall meeting at Northeast Technology Center.Mullin's chief of staff, Karl Ahlgren, said Jan. 19 that death threats had been made against Mullin and his family, but no details were revealed.
"Some lunatic … didn't like my stance on guns, and his solution was to threaten to shoot me," Mullin said. "How ironic is that?"
His children were taken in through the back door of their school under the protection of federal and local law enforcement officers "because the threat was directed toward that," he said.
The situation, which occurred while Mullin was in Washington, caused him to have a "pity party" and question his decision to seek office, Mullin said Tuesday.
"I was praying a little bit, but I was doing more griping," he said.