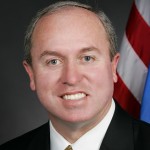 Claremore Republican Rep. Marty Quinn announced today that he intends to run for the Senate seat being vacated by outgoing Senator Sean Burrage, a Democrat.
"I am excited and ready to serve Oklahoma as our next State Senator," said Quinn. "I have been honored to represent Rogers County in the state House, working for conservative reforms that represent our shared values. Now I'm hoping to have the privilege of serving the people of our Senate district."
"I'm proud of the accomplishments I've shared in as a State Representative, from lowering the income tax to reforming the worker's compensation laws. I want to build on those accomplishments in the Senate and be a conservative voice for the taxpayers of Oklahoma."
"In my time as State Representative I worked hard to build a positive reputation and relationships with House and Senate members, and the members know I am an individual they can trust. I believe that is a great asset when it comes to accomplishing things on behalf of the people I serve, and I hope to continue that reputation in the Senate."
Quinn serves as a member of the Oklahoma House of Representatives, representing the areas of Claremore, Collinsville, Owasso, Valley Park, and Verdigris. He was first elected in 2010. During his service in the legislature, Quinn has been directly involved in the committee on Insurance as the Vice Chair, A&B Common Education committee, Rules committee, and the Transportation committee.
In addition to serving in the Oklahoma House of Representatives, Quinn maintains an active insurance company in Claremore.
Quinn and his wife, Kelley, currently reside in Claremore. They have two children, Lynsay and Tyler.