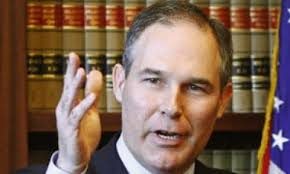 Attorney General Scott Pruitt will be a featured panelist on Saturday at the national Conservative Political Action Conference (CPAC) in the Washington, D.C., area.
Pruitt will discuss Oklahoma's role in preserving the authority and role of the states during a panel discussion titled, "Dusting Off the 10th Amendment: The Future of Federalism."
"Today, we see a federal government that's more willing than ever to displace the states and the authority and role granted states in our system of government. Oklahoma is a leader on so many fronts in holding the federal government accountable, from our lawsuit challenging the unlawful implementation of the Affordable Care Act to our efforts to stop the president's unlawful executive actions on immigration and the EPA's harmful regulatory proposals. States have rights that, in many cases, are being directly and knowingly subverted. I'm honored to again speak at the annual CPAC convention and to highlight Oklahoma's leadership in challenging federal overreach."
Speaking on the panel with Pruitt will be Kansas Governor Sam Brownback and Virginia Congressman Bob Goodlatte. The annual CPAC meeting is a project of the American Conservative Union and each year brings together students, elected officials, policy experts and citizens to discuss conservative solutions to the issues and policy challenges facing our nation.