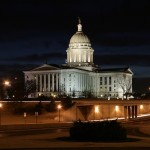 Funeral services for Rep. Sue Tibbs will be held Wednesday at 2 p.m. in the main sanctuary of Grace Church, 9610 South Garnett, in Broken Arrow.
Burial will be at Floral Haven Cemetery following the service; the cemetery is located at 6500 S. 129th East Ave. in Broken Arrow.
Tibbs, 77, was serving her 12th and final year in the Legislature.