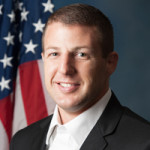 Congressman Markwayne Mullin toured construction work along the Keystone XL pipeline project near Atoka and renewed his call to President Obama to promptly permit the project's northern leg that crosses the U.S. border with Canada.
"The President has run out of excuses to delay any further the approval of this private sector investment that would provide much-needed jobs for America," Mullin said at a pressconference in Atoka.
"Let's let the private sector move the economy forward and help this country reduce its dependency on foreign oil from countries that don't always have America's best interests in mind. Let's do what America has always done and let's get to work."
Mullin got a first-hand look at progress on construction of the pipeline south of Atoka including witnessing highly skilled workers welding together sections of the 36-inch pipe, joining sections of pipe and maneuvering the heavy equipment used in the construction process. Many of the workers Mullin met were from Oklahoma and the Second District.
"It was a great opportunity to see the work being done here in the district and the jobs that this private sector project has created," Mullin said of the tour. "The economic impact from not only construction supplies but also every cup of coffee or meal these workers purchase in the small towns throughout Southeast Oklahoma is a boost to the local economy."
The Keystone XL project is a pipeline project that will transport crude oil from Canada and the Bakken Shale Formation in Montana to refineries on the Gulf Coast. Work is already underway to construct the pipeline through parts of Oklahoma but the project's final approval for the northern section has lagged.
The recent U.S. State Department's draft supplemental report indicated that the pipeline can be built with no significant affect to the environment.
In Oklahoma alone, construction of the three pipeline spreads from Cushing to the Gulf Coast is resulting in per spread monthly spending of approximately $2 million in construction costs and employing around 1000 people. One of the spreads is located entirely in Oklahoma, according to TransCanada Project Representative Jim Prescott.
Additionally, workers are spending an estimated $2,500 out of their own pockets in incidentals and housing. The total economic benefit of the Keystone project in local communities is between $4 and $5 million per month, Prescott estimated.