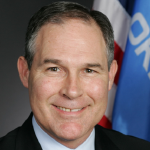 Attorney General's Office
An Oklahoma County District Judge on Friday awarded more than $47 million to the state in a case brought by the Attorney General's Office against a New York company selling illegal cigarettes, Attorney General Scott Pruitt said.
The Attorney General's Office filed the case against Native Wholesale Supply in 2008 after the company began selling illegal cigarettes to Muscogee Creek Nation Wholesale, a violation of the Master Settlement Complementary Act. The cigarettes were manufactured by Grand River Enterprises – a tobacco product manufacturer located in Canada – and were sold to the public by Muscogee Creek Nation Wholesale and tribal retailers.
Under the Act, cigarettes sold in Oklahoma must be on an approved list to be sold to the public. The cigarettes sold by Native Wholesale Supply had been removed from the list in 2006.
In addition to Friday's award against Native Wholesale Supply, the Attorney General's Office also filed cases against Grand River Enterprises and Muscogee Creek Nation Wholesale.
Judgment against Grand River Enterprises was granted in April 2011 for more than $5 million for unpaid escrow deposits. The Court also awarded a penalty against Grand River Enterprises for nearly $508,000.  The judgment against Grand River Enterprises was sustained on Wednesday by the Oklahoma Court of Appeals.
Muscogee Creek Tribal officials and retailers were sued in 2009. They settled the lawsuit and entered into a compact in August for $11.5 million dollars.