[A memorial service will be at 1 p.m. Thursday at the Anadarko High School Gymnasium, 407 W Oklahoma Avenue, Anadarko. A public viewing will be from 9 a.m. to 9 p.m. Monday, Tuesday and Wednesday at Lynlee Mae Chapel, 507 E Main in Moore.]
Oklahoma Highway Patrol supervisor Captain Pete Norwood, Department of Public Safety liaison to the Legislature, died this morning.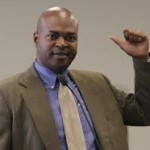 Details are sketchy; one of those informed of the death said it apparently came after a heart attack.
House Speaker T. W. Shannon notified members of Norwood's death in an email.
Norwood, 42 and a former University of Oklahoma football star from 1989 to 1992, was an 18-year veteran of the patrol. He died in an Oklahoma City hospital, the Oklahoma Department of Public Safety reported.
Norwood became a familiar figure as OHP media spokesman over his many years of service, often appearing on television, in radio newscasts, and in print stories.