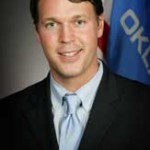 Rep. Seneca Scott has been appointed to the Natural Resources and Infrastructure Standing Committee of the National Conference of State Legislatures by House Speaker T.W. Shannon.
The appointment coincides with Scott's nomination by the Choctaw Nation of Oklahoma to the White House State, Local, and Tribal Leaders Task Force on Climate Change. He also serves as Secretary of the National Caucus of Native American State Legislators and as Secretary of the Oklahoma House of Representatives Native American Caucus.
"I am honored by the trust Speaker T.W. Shannon and the Choctaw Nation of Oklahoma have placed in me as a representative of Oklahoma and the Choctaw Nation," said Scott, D-Tulsa. "Natural resources are of utmost importance to the Choctaw Nation and the other tribes of Oklahoma and I think this role will tie in very closely to the work I am doing on their behalf."
The Natural Resources and Infrastructure Committee is one of eight NCSL Standing Committees that educates Congress and federal agencies about state concerns. The committee's focus is energy, environment, agriculture and transportation programs, legislation and policies.
The National Conference of State Legislature will hold their annual conference in Atlanta, Georgia, this year on Aug. 12.