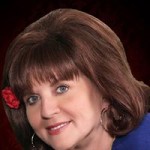 Staff
Karen Stark is the founder and executive director of The Hugs Project, an all-volunteer movement in Oklahoma City that sends thousands of care packages to servicemen and women each year.
Today, on Facebook, she shared the story behind the founding of the group:
"I don't talk a lot about Vietnam but that was my era….those were my guys. I let them down."I didn't protest them. I believed that we needed to be there because why would our government send us in otherwise? But, I was a girl and didn't have a draft number and I didn't have a brother. So….I didn't give it much thought. After all, I had grown up with the world at war (much like today's y…outh). So, while many of the guys in my graduating class went off to war, I went to college, fell in love, married and had a baby girl.
"It wasn't until much later that I realized how unfairly they had been treated, spit on and called names. Why didn't I write them some letters, bake cookies, send some care packages and support?
"Out of that guilt, The Hugs Project was born and continues to this day. If we can help it, NO American serving in harm's way will ever feel unappreciated. We LOVE OUR TROOPS AND VETERANS of all ages!!!"